Phil Robertson, Michigan State University Distinguished Professor of Plant, Soil and Microbial Sciences at the W.K. Kellogg Biological Station, is the recipient of two awards from the U.S. Long-term Agroecosystem Research Network, or LTAR.
Robertson, an internationally recognized crop and soil scientist, received the honors at the 2022 LTAR Annual Meeting, which was held in July in Pullman, Washington. The Founders Award and Network Impact Award recognize his co-leadership of the Croplands Common Experiment Workgroup and other contributions to the LTAR Network.
Stephen Hamilton, MSU professor of ecosystem ecology and biogeochemistry and a KBS colleague of Robertson's, wrote the letter of nomination for the awards. He noted Robertson's key involvement in the early stages of the formation and operation of the network.
"His 2008 paper in BioScience outlined the need for this network," he wrote. "As LTAR developed, he actively contributed by sharing his insights and perspectives from his years of experience with agroecological research at KBS."
He added, "Many aspects of our scientific activities, including the experimental design, measurements, and data management, have benefitted greatly from his input."
KBS Director Fredric Janzen also acknowledged Robertson's enduring contributions to the network. He said, "Phil's understated, longstanding, multifarious efforts on behalf of sustainable, regenerative agriculture—locally and nationally—are long overdue for prominent recognition and gratitude."
Phil Robertson
Robertson has been a faculty member in MSU's Department of Plant, Soil and Microbial Sciences since 1981. He served as director of KBS's Long-term Ecological Research program from 1988 to 2017, and is on the leadership team for the Department of Energy's Great Lakes Bioenergy Research Center. He also is director of the KBS LTAR site.
His research interests include the biogeochemistry and ecology of field crop ecosystems and in particular nitrogen and carbon dynamics, greenhouse gas fluxes, and responses to climate change.
Robertson is a Fellow of the Soil Science Society of America and the American Association for the Advancement of Science. In 2005, he received MSU's Distinguished Faculty award. He earned his Ph.D. in Ecology and Evolutionary Biology from Indiana University.
Long-term Agroecosystem Research Network
The USDA's Long-term Agroecosystem Research Network is a partnership of 18 premier, long-term research sites across the United States, charged with researching national strategies for the sustainable intensification of U.S. agriculture. Key to this effort is establishing collaborative experiments that are informed by stakeholders. The sites all were well-established research locations prior to joining the LTAR network, and continue to study local agricultural issues in addition to LTAR research goals.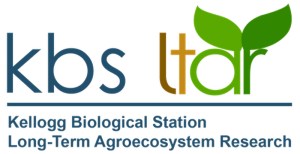 The KBS LTAR site joined the network in 2015 and was fully funded in 2020. The KBS site is focused on helping to meet future sustainability challenges for cropping systems of the upper Midwest, with research designed with stakeholders to advance both food production and positive environmental and societal outcomes for agriculture.
At the time the KBS site received full funding, Robertson remarked, "What's new and exciting about LTAR is its emphasis on a long-term partnership between scientists and stakeholders such as farmers and others interested in agricultural outcomes to design durable, sustainable farming systems in Michigan and beyond."