Get in touch with our staff by using our Contact Us form. We look forward to hearing from you, and answering your questions!
Meet the Employees of the Kellogg Farm and Pasture Dairy Center
Howard Straub III, Pasture Dairy Center Manager
Howard earned his Bachelors of Science in Animal Science from Michigan State University in 1998. Before coming to the Pasture Dairy Center, he grew up on his family's dairy farm in Clinton County, MI and has also operated other pasture dairy facilities. Howard oversees the operations of the Pasture Dairy Center, along with animal management & welfare. He is also responsible for the management of the pasture grazing system, and conducts outreach with industry professionals in area of robotic milking and grazing systems. In his spare time, he travels throughout the US training cows and farmers about how to integrate and use automatic milking system (AMS) aka robots, like the ones that are present at the Pasture Dairy Center.
Follow Howard on Twitter @RobotGrazier
Cheyenne Ryzenga, Pasture Dairy Center Assistant Manager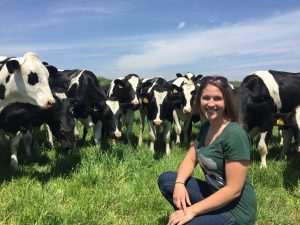 Cheyenne Ryzenga earned a Bachelor of Science degree in Animal Science from Michigan State University in 2013 with a concentration in animal biology and pre-veterinary medicine. Cheyenne started at the Pasture Dairy Center after graduation as the Pasture Management and Outreach intern and now plays a major role in the daily activities and research projects done on the farm. Occasionally she helps with the start-ups of new robots on other dairies. In her spare time, Cheyenne likes to take her Quarter Horse, Lightning, on trail rides.
Tyson Robbins, Crops Assistant Manager
Tyson Robbins serves as an Assistant Manager at the Kellogg Farm, focusing on crop production and crop research support. Tyson earned his B.S. degree in Plant, Soil and Microbial Sciences at Michigan State, and has over 10 years of experience with crop and forage production.
Misty Klotz, Outreach Coordinator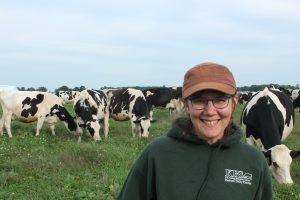 Misty Klotz is an experienced educator with a demonstrated history of working in Community Outreach and has served KBS from 2013 to the present.  At the Pasture Dairy Center she coordinates on site farmer education programs and tours. She provides education programs on agriculture, and natural resources to School-based and public audiences.  Misty also serves as the Michigan State Education Coordinator for the Dairy Grazing Apprenticeship (DGA) program.
Advisory Committee
Advisory Committee
The Kellogg Farm has organized a Research Advisory Committee in efforts to carry forward the legacy of agricultural research, and to improve the ability to serve the needs of future individuals and programs, particularly related to agroecology and sustainable agriculture research. The specific goals of the Kellogg Farm Research Advisory Committee are to assist Farm Manager, Dr. Brook Wilke, with the following topics:
Coordination of research activities and directions at the Kellogg Farm, particularly related to the Farming Systems Center and the Pasture Dairy Center
Development and maintenance of infrastructure to support research
Evaluation of site use fees
Promotion of research opportunities at the Kellogg Farm
Evaluation of research proposals
Committee members are expected to be present at one committee meeting per year, held in the winter at KBS. Members are also expected to attend at least one Kellogg Farm Open House event per year. Perhaps most importantly, members will need to be available for individual consultation with Dr. Wilke regarding questions or concerns that arise throughout the year.
Current Committee Members
Dean Baas (MSU Extension)
Paul Bartlett DVM (Veterinary Medicine)
Ron Bates (MSUE)
Dan Brainard (Horticulture)
Kim Cassida (Plant, Soil and Microbial Sciences)
Stuart Grandy (University of New Hampshire)
Sasha Kravchenko (Plant, Soil and Microbial Sciences)
Steve Hamilton (KBS & Integrative Biology)
Phil Robertson (KBS & Plant, Soil and Microbial Sciences)
George Smith (AgBioResearch)
Kurt Thelen (Plant, Soil and Microbial Sciences)