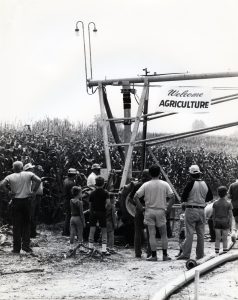 In 1928, W.K. Kellogg deeded the Kellogg Farm to Michigan State College, now Michigan State University, with the intention that the College would "… operate this farm under a most modern system of farm management so that it may serve as an object lesson to the people of the region in which it is located." C.M. McCrary became the first farm manager in 1930. Kellogg and McCrary quickly recognized the importance of forage, pasture, and livestock manure in building good quality soil. Twenty-eight purebred Guernsey cows, purchased in 1928, were the foundation of the original dairy herd. The Guernsey herd was recognized as one of the best in the US before being sold in the late 1970's.
Cropping system research was taken to the next level in the 1980's, with the construction of the Farming Systems Center, Farm Learning Center and the start of the Long Term Ecological Research Project (LTER). Research and Extension of profitable and sustainable cropping systems was prioritized, and may projects spanning this area of research continue to utilize the infrastructure at the Farming Systems Center to carry out Kellogg's original mission.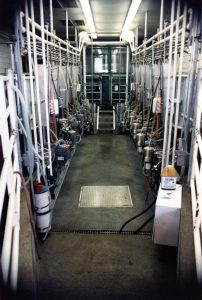 In 1984, the KBS dairy with the support of the W.K. Kellogg Foundation, opened a  'state-of-the-art' dairy facility which included a free-stall barn, a double six herringbone milking parlor, and milked approximately 100 registered Holstein cows three times a day.  The herd was also changed from Guernsey to Holstein to reflect the industry trend of the time. Milk production averaged around 25,000 pounds per cow per year (9 gallons per day) when this facility closed.
The 2008 year marked the initiation of the Great Lakes Bioenergy Research Center (GLBRC), which focuses on developing sustainable cropping systems for biofuel production. The Kellogg Farm provides the main field site for the study of these crops and systems.
In 2009, the dairy herd at the Kellogg Farm was moved to the Pasture Dairy Center. This move transitioned the herd from a confinement dairy system to pasture-based dairy with automatic milking systems (AMS). On most dairy farms cows are milked on a strict schedule two to three times per day with people manually cleaning each cows udder and attaching teat cups to the cow in preparation for milking. In the AMS dairy, the robot does the cleaning and attachment and the cow decides when and how often she is milked each day.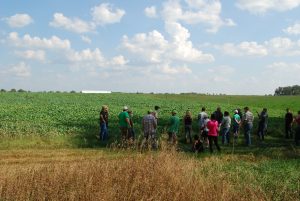 Today, the W.K. Kellogg Farm continues to carry on the original mission from W.K. Kellogg, supporting research that improves crop and animal management for the benefit of the producer, surrounding community and the environment. The integration of the row-crop, biofuel and dairy research programs provides a unique opportunity to examine agriculture from an integrated, whole system perspective.