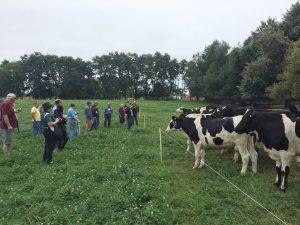 Members of the Kellogg Farm are here to help you by working closely with extension personnel and hosting various field days. These opportunities allow for farmers and agriculture industry partners to come together and discuss new research and techniques, and explore together how farmers can start to think about applying sustainable practices within their farms.
See the events calendar for upcoming workshops and field days. We offer tours for agricultural and academic professionals and educators; visit the KBS site to learn more about tours.
Farmers are also encouraged to contact us with questions about our work at the Kellogg Farm. If the farm staff can not answer questions directly, they are more than willing to help make connections with other MSU Extension staff.
Our Pasture Dairy Center manager, Howard Straub, is excited to work directly with farmers who are seeking to implement more sustainable farming practices like pasture grazing or robotic milking. Contact us to learn more about his consulting.