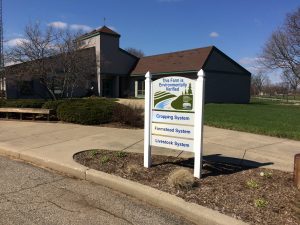 The Kellogg Farm has worked hard through decades to create organizational partnerships within the local community to help inform more people about the ongoing work at the farm. The Kellogg Farm is Michigan Agriculture Environmental Assurance Program (MAEAP) certified and partners with the Michigan Department of Agricultural and Rural Development (MDARD) to offer a training for new MAEAP technicians.
In 2018, the Kellogg Farm is partnering with the Michigan Food and Farming System (MIFFS) to develop a Michigan chapter of the Dairy Grazing Apprenticeship Program, which provides formal training to individuals who want to learn more about managing a dairy herd within a grazing system.
The county conservation districts in Michigan play a key role in our operation and help to maintain our MAEAP certification. Check out our local Conservation Districts in Barry and Kalamazoo counties to learn more about what they are doing to promote sustainable agriculture in our region. If you are with a non profit organization in the region and would like to explore a partnership, please contact farm manager Brook Wilke.