ADDRESS
W.K. Kellogg Farm
10461 N. 40th St.
Hickory Corners, MI 49060
Pasture Dairy Center location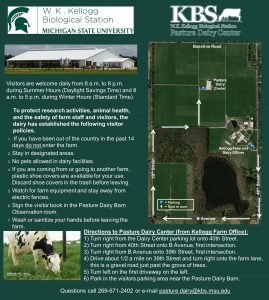 The Pasture Dairy Center entrance is located off of 39th St.
Visitors are welcome at the PDC anytime between dawn and dusk.
Directions to Pasture Dairy Center from Kellogg Farm and Dairy Offices
1. Turn right from the Farm Office parking lot onto 40th Street.
2. Turn right from 40th Street onto B Avenue, first intersection.
3. Turn right from B Avenue onto 39th Street, first intersection.
4. Drive about 1/2 a mile on 39th Street and turn right onto the farm lane, this
is a gravel road just past the grove of trees.
5. Turn left on the first driveway on the left.
6. Park in the visitors parking area near the Pasture Dairy Center.
PHONE
(269) 671-2402 (Events & Programs)
(269) 671-2509 (Farm Manager & Pasture Dairy Center)
Email us
Send us a message and we will be in touch with you soon!