A big goal of the work that is being done at the Kellogg Farm is to educate people within the local community about the various activities that are going on. Social media is the best way to have a daily update on what we have going on. There are various field days/open houses that happen throughout the year that allow community members to come and visit to see the ongoing projects. For more information about setting up a group tour of the Pasture Dairy Center, contact us.
Pasture Dairy Center Public Open Houses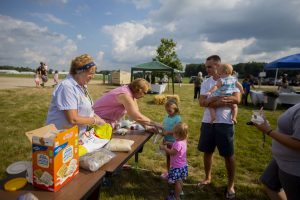 The Pasture Dairy Center holds open house events throughout the summer. Farm staff, student interns, and volunteers greet visitors and answer questions about management and research at the dairy. During open houses, visitors learn how dairy management in our modern dairy facility impacts cow health, milk production, and the environment, as well as how research at the Pasture Dairy Center can impact Michigan dairy farmers. Open houses are free and no pre-registration is required to participate. See our events calendar for dates and times of upcoming open houses. All ages and backgrounds are welcome.
Pasture Dairy Center Interpretive Area
The observation room at the Pasture Dairy Center is open from dusk to dawn.
To protect research, animal health, and the safety of farm staff and visitors, the dairy has established the following visitor guidelines:
If you have been on a farm located out of the country in the past 14 days, do not enter the Pasture Dairy Center.
Stay in designated areas.
No pets allowed in dairy facilities.
If you are coming from or going to another farm, plastic shoe covers are available for your use.
Watch for farm equipment and stay away from electric fences.
Please sign in. A visitor book is in the Pasture Dairy Center observation room.
Wash or sanitize your hands before leaving the farm.
Directions to the Pasture Dairy Center
Turn right from the Dairy Center parking lot onto 40th Street.
Turn right from 40th Street onto B Avenue, first intersection.
Turn right from B Avenue onto 39th Street, first intersection.
Drive about 1/2 a mile on 39th Street and turn right onto the farm lane, this a gravel road just past the grove of trees.
Turn left on the first driveway on the left.
Park in the visitors parking area near the Pasture Dairy Center.